להצליח להנהיג את צוות הסטארט-אפ שלך
להצלחה – האתגרים והפתרונות
הניסיון מראה שניהול צוות במיזם חדש הוא אחד האתגרים המורכבים שיזמים צריכים להתמודד איתם.
אתגרים של ניהול המשימה, קביעת יעדים, פתרון קונפליקטים וקבלת החלטות מקבלים משמעות אחרת בארגונים קטנים ודינמיים כמו סטארט-אפ.
במפגש זה תשתף גב' שלי לב מניסיונה העשיר בעבודה עם סטארט-אפים רבים וליווי מנהלים בדרך הקשה והמפותלת אל ההצלחה, ותיתן לנו היזמים כלים להתמודד עם מצבי ניהול רלוונטיים.
גב' שלי לב היא יועצת ארגונית המלווה יזמים בהיבטים הניהוליים של הקמת מיזם חדש. כחלק מעבודתה הייעוצית, מלווה שלי סטרטאפים וארגונים בתהליכי צמיחה, גדילה וגלובליזציה. שלי מרצה באוניברסיטאות ומוסדות אקדמיים בארץ ובעולם, בין היתר במתחם ליזמות באקדמית ת"א-יפו.
להרשמה ותשלום לאירוע לחצו כאן >>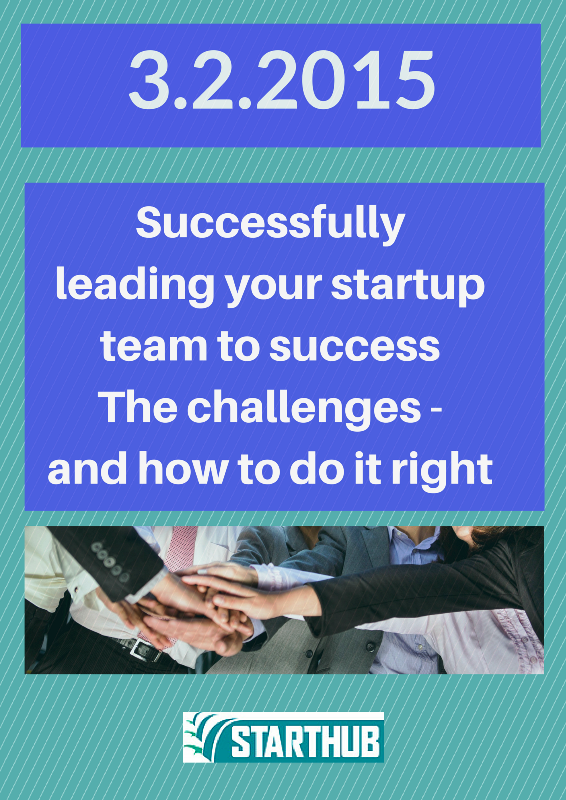 Successfully leading your start-up team to success –
The challenges and how to do it right
 Managing a start-up team is on of the more challenging task entrepreneurs should cope with.
Issues of task management, goal setting, conflict resolution and decision making get a totally different meaning in small and dynamic organizations such as start-ups.
In this session Shelly Lev will share with us insights from her rich experience working with start-ups and CEOs on the long and winding way to successas well as provide us with relevant tools to handle those challenges.
ALL SESSIONS WILL TAKE PLACE IN HEBREW
Agenda
17:00-17:15 – Welcome & Gathering
17:15-17:30 – Greeting & Opening Remarks- Dr. Eyal Benjamin
17:30-19:00 –  Mrs. Shelly Lev – Successfully leading your start-up team to success – The challenges and how to do it right.
19:00-19:30 – Q&A
19:30-20:00 – Networking & Coffee
About the speakers
Mrs. Shelly Lev –  Shelly is an Organizational Development Consultant and a lecturer in Tel Aviv Yaffo's StartHub center. Shelly helps entrepreneurs with the managerial aspects of running their stat-ups. As part of her consultancy work, shelly works with start-ups and organizations leveraging their growth and globalization stage. Shelly is also a lecturer in universities and academic institutions in Israel and around the world.
Dr. Eyal Benjamin –  Eyal is an entrepreneurship-strategy scholar and a serial entrepreneur passionate about innovations. Eyal has established four start-ups by now, two of which were sold. Holding a B.Sc. in engineering from the Tel-Aviv University in Israel; Masters of Entrepreneurship and Innovation; and a PhD. on the topic of "radical changes in strategy of high technology new ventures" both from the Swinburne University of Technology, Melbourne, Australia.
Currently Eyal heads the StartHub entrepreneurship accelerator program, and head of Entrepreneurship division at the Tel Aviv Yaffo Academic College.